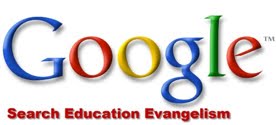 Google Evangelism – Teaching Students How to Search the Web
Google understands the importance of finding the right information at the right
time. We create tools to let you find the information you need, of the kind you
need, when you need it. In most cases, a simple search works really well. But
for more specialized questions, a bit of instruction in how to search improves
all searcher–from middle school students to trained professionals–and lets you
discover and use more, higher quality sources than ever before.